Football and us
Goalkeeper in my barrio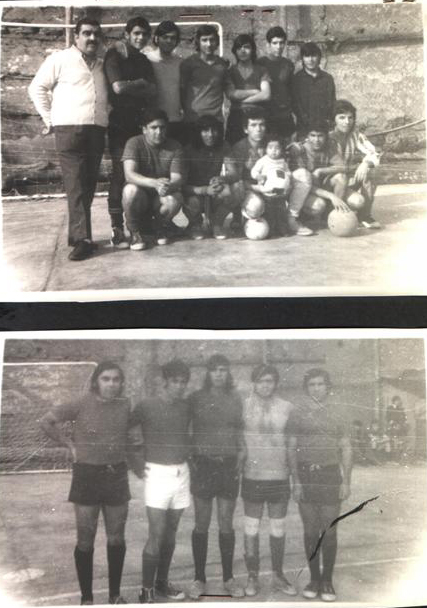 In Chile I used to play a lot of football and once in Glasgow, with my fellow refugees, we used to enjoy playing football among ourselves and against the local boys. I was for a time the goalkeeper until a Rene M came and repalced me. We had some good players - Hugo was one and Oscar another. Oscar was a representative of Chile Democrático in Glasgow for a long time. He was in prison as a young socialist and released thanks to the good offices of Hernan Montealegre, a fine Chilean lawyer involved in Human Rights and Monsignor Fernando Aristía who by considence I knew well because was my church priest in Santiago. Oscar told us that he used to play chess with Salvador Allende.
Some Chileans footballers, Glasgow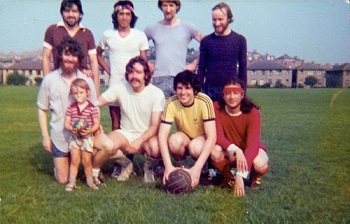 In the 70s and 80s it was very common for us Chileans to go to Ibrox, Celtic Park and Hampden to watch such interesting games as Rangers against Celtic or international games involving Scotland. Apart from being appreciative about what constituted good or bad football it was clear to us that the game in Scotland was rather different to the one we used to see in South America. What constituted a surprise for us was to see a kind of "controlled violence" among the fans.
This produced in us certain uneasiness and the realisation about the nature of football in Scotland: strong religious connotations and other issues unknown to us on a football pitch: sectarianism, and racism. We felt at the time that this was something negative, damaging the name of football and the name of Scotland.
The whole thing contrasted very much with our own football in Chile where everything seemed to be more tranquil and subdued. I am talking about 35 years ago because, today, we also find violence in Chilean stadiums. Chile organised a World Cup in 1962, as recognition by FIFA that the country was politically stable and free from violence, important ingredients to guarantee an international event free of trouble. Argentina always a world power in football only managed to organise an event of this nature in 1978. The reason is that this country was always subjected to political upheaval. Argentina in 1978 was ruled by a bloody dictatorship which four years later would provoked a war between Argentina and Britain for the possessions of the Malvinas( The Falkland islands)
One story of football has to do with the European Championship qualifying group 4, between Scotland and Spain and played in Glasgow on the 20th of November, 1974 that is, a few weeks after our arrival in Glasgow.
Pat a very nice, ginger-haired Scottish worker from the North Sea oil platforms, who was involved in the Chile Solidarity Campaign, kindly invited me and a friend to the game. Tulio and I were delighted to accept the invitation and decided to wear for the occasion our Peruvian ponchos. We did not have any other appropriate clothes to wear. When our friend came round to pick us up at Suzi's flat, we heard him screaming Oh! No…!! We argued (in fact it was Tulio who argued, as I did not speak English) that we did not possess any other type of dress.
That night, walking down Byres Road towards the underground we could see a number of coaches full of Scottish supporters on their way to the stadium and some of these buses stopped to give the supporters a chance of shouting and showing us, through the windows, their fingers in the upright position. Fortunately, it was at a time when this rather offensive finger gesture did not have any meaning for us and as a result we remained passive and wondering what was going on.
Thank you! Rene for the picture: Celebrating a fotball victory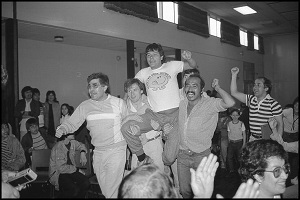 But then, we began to make connection and to think that the Scottish supporters thought we were Spaniards and hence the Scottish supporters' unfriendly gestures Once in the stadium the whole thing become complicated for us as Spain beat Scotland 2-1. The Scottish goal was scored by Bremner. We could sense that some Scottish supporters were looking at us menacingly. The three of us ended up disappearing quietly into the Glaswegian night before the match had finished and with our somewhat bulky brown ponchos concealed under our arms, never mind the cold. I can recall that that was the night when I learned and understood the full meaning of the words "Fuck off".
Thank you! Rene for the picture: a very good fotball team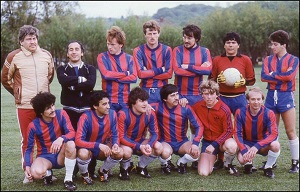 The Amnesty International Report 1977.
In 1977, Prisoners of Conscience Year, Amnesty International published, a comprehensive Report entitled "Disappeared prisoners in Chile", Dossier on Political prisoners held in secret detention camps in Chile. This Report was accompanied by a selection of case histories and lists of disappeared prisoners, by occupations, including an appeal from the relatives of the disappeared prisoners. Many photographs were produced relating to the cases mentioned above.
In the Report's editorial we read:
Chile: three years later…
On the 11th September, 1973, a bloody military coup overthrew the democratically elected government of President Salvador Allende of Chile. The Junta that seized power embarked immediately on a programme of repression that shocked the world:
persecution of government supporters, mass arrests, detention, torture, summary trials and executions.
Amnesty International sent its own delegates to Santiago in November 1973, and published, in September 1974, a report on the first year of the military regime. Since that time, the violations of Human Rights denounced in the report have not stopped: arbitrary imprisonment, execution, systematic use of torture and the disappearances of political detainees are the main elements of a dark period in the history of Chile.
From the 11th of September 1973, to date, approximately 100.000 people have been subjected to arrest and detention, more than 5,000 have been executed, and tens of thousands have had to go into exile for political reasons. In the last two years, however, the Chileans government has taken several measures in an effort to improve its image, which had been seriously damaged by its violation of basic Human Rights.
These measures are:
a) The introduction of legislation to regulate the procedures for arrest and detention; b) Legislation permitting political prisoners sentenced by military court to opt for
exile
c) Releases of political prisoners held under the State of Siege.
So far, these measures have not resulted in the cessation of the serious violations of human Rights referred to above. The responsibility for these violations lies mainly with DINA (Direction Nacional de Inteligencia- the major Chilean intelligence service) which was created after the coup and which is responsible only to the president of Chile for its actions…
Profession includes the following:
The lists of disappeared prisoners by occupations include:
Skilled workers such as Don Santiago Ferru Lopez, age 75, a furniture carpenter married with two children. Farmworkers and peasants (campesinos) such as Don Jose Castro Maldonado, age 55, married with six children. White collar workers (empleados, including secretaries) such as Señora Monica Chislayle Llanca Iturra, civil servant, married with one child. Traders and salesmen such as Don José Baeza Cruces, married with two children. Professional people such as Ida Amelia Vera Almarza, Chilean-Bolivian, unmarried, Architect. Sportsmen such as Daniel Tormen Mendez, unmarried, cyclist, member of National Team. Men undergoing military service such as Carlos Alberto Carrasco Matus, unmarried, a soldier. Teachers such as Alejandro Juan Avalos Davidson. Unmarried, University lecturer(English) Students such as Maria Cristina Lopez Stewart, unmarried, student of geography.
10)Trade Unionists, Victor M. Lopez Díaz, miner.
11)Artists such as Carmen Cecilia Bueno Cifuentes, Film actress.

The Scottish Football Association and Pinochet's Chile
In the year of the above Amnesty International Report (1977), Chileans were very upset by the Scottish National football team playing in the Santiago National Stadium against Chile as a preparation match before the world cup in Argentina. The game was taken as an offence against those who had been tortured and killed in the stadium. It was regarded as a propaganda coup for the Pinochet's regime. The Edinburgh Chile Solidarity Campaign wrote then:

"To stop this match - This is the task we have set ourselves…it is one we cannot shrink from. Already we have had resolutions and protests to the SFA and the Government. But the SFA have ignored them…"
The Chileans wrote the following letter to the Scottish press expressing their anger: here is a transcript.
Dear Sir,
Having read that Scotland's football team might be playing at the National Stadium in Chile- and keeping in mind that it is not up to us but to the Scottish people and organizations to participate both in the debate and the adoption of a resolution- we have nonetheless, decided to seek a means of acquainting the public with some facts that might be relevant.
For example, there are living in Scotland about 250 Chileans- who had to leave Chile as a result of the Military Coup of September 1973-mostly families, including children and some cases elderly people. There are families with both Chilean and Scottish children since several babies have been born here.
Among our Compatriots, many have gone through the experiences of torture, prison, concentration camps (Stadiums, Gymnasiums, and the like, etc.), so that we do know what the National Stadium means in terms of atrocities against innocent people.
Thus, when we hear that representatives of the Scottish people-such as our sportsmen-would have to use the very same changing rooms that were defiled when made to serve purposes exactly opposite to those that sport serves, we feel sorry that the good name and prestige of Scottish football and Scotland as a whole might be stained in this way.
However, this is not the only cause of concern, let alone the most important perhaps. The very fact that the Scots enjoy international prestige transforms a purely sporting event into a political issue for the Military junta in Chile. In point of fact, that prestige and the name of Scotland will be used to serve the political interest of the military regime that seeks to whitewash its shameful image, especially after having received world condemnation at the XXXI U.N. General Assembly last November when an overwhelming majority condemned in the most severe terms the atrocities of the Junta, and demanded in an authoritative way the prompt restoration of Human Right in Chile. One reason among the innumerable ones the U.N.O. took into account was precisely the notorious record of the National Stadium where the changing rooms were used not only as a prison, but also as torture chambers…
We would not only deplore the damage that Scottish football would inevitably suffer in the eyes of the Chilean people and many other people everywhere, but also we would feel unhappy and ashamed that the people we thank for their hospitality should in effect suffer, on our own land and in the name of our nationality, the insult of being used to whitewash the dirty image of a political regime condemned by world opinion. It would be cruel irony and disservice to both people. On behalf of the Chilean exiles living in Edinburgh,
p.s. For obvious reasons, we would appreciate if you would abstain from giving publicity to our names,
Thank you in anticipation.
The following was the text of a letter written by the SFA secretary Mr W.P. Allan and sent to the Edinburgh Chile Solidarity Campaign.
8 February, 1977
Dear Sir,
Thank from your letter of the 4th
The Association has no brief for the present Chilean regime and indeed, it has the utmost sympathy with any who may have suffered at its hand. Likewise, the Association has no brief for many other governments and has equal sympathy with any who have suffered as a result of their actions. However, if this Association were to decide its activities according to its attitudes towards foreign government, it would have a very limited field indeed, from which to choose.
The Association endeavours, as far as it possibly can, to divorce itself from politics.
Unfortunately, however, through no fault of its own, it has become so involved in this instance,
Yours faithfully,
W. Allan,
Secretary.

The BBC and the Chile-Scotland match
"DIM VIEW OF CHILE"
was the headline of an article appearing in a Scottish newspaper during these days:
"The BBC's decision to televise Scotland's controversial football match against Chile in Santiago in the summer was condemned yesterday by Labour MP Norman Buchan and Scottish TUC leader James Milne. They pointed out that the game will be played in the National Stadium where supporters of the ousted Allende regime were tortured and executed by the military junta in 1973.
Mr Buchan MP for Renfrewshire and executive member of the Chilean Human Rights Committee, protested: 'It is a disgrace to call on any member of the BBC staff to put himself in the position of seeming not to condone atrocities'. Similar objections were raised by Mr Milne, who, like Mr Buchan has been campaigning to have the fixture called off. He said that televising it would be 'completely at variance with the BBC's good name.' He was writing to the BBC's controller in Scotland, Mr Alaistair Hetherington, for an explanation.
Meanwhile sport producer Malcom Killard promised: 'No one will be compelled to go. If for reasons of conscience they would rather not, then they can opt out.'
The Santiago game is one of three matches Scotland will play in South America as a warm-up for the World Cup.
Scotland's team sets off for Chile on the 9th of June, despite rebukes from members of the Government, a polite request from the Foreign Office, and lots of pressure".
On the 11th February of 1998 Chile beat England at Wembley 2-0
. My son and I were at the game in London. It had been an excellent Chilean victory and understandably I was very happy. Soon after the game I began to write a story about it, after all, I always love football. Since I was a small boy I used to play a lot of football in my barrio with my friends. I was their goalkeeper.
On the 16th of October of 1998, months after the football game, came the new about the detention of General Pinochet in London. Millions in Chile and around the world were immensely happy with the news. The Chilean Government of 'la Concertacion' was furious as well as million of Chilean supporters of the General.
The Pinochet Dictatorship was not a joke in the history of our country. The Chilean Government of the day never had a commitment to punish Pinochet and many others. The dictator was, until that moment, in untouchable but unfortunately for him not for the international community dealing with Human Rights abuses. It was clear to me that I had to continue with my story of fotball, after all, the Chileans football stadiums had been used, by this friend of Mrs Thatcher, to detain, torture and killed Chileans.
This story of mine goes back and forwards, up and down and everywhere like a ball in a football pitch. Click here to see some brief details about the game at Wembley, click here for some details about the Chilean National Stadium in Santiago and here to see an interesting gallery about Pinochet's detention in London in 1988.

Detalladas reflexiones de una aventura en Londres. Historia que comienza en el estadio de Wembley el 11 de Febrero de 1988. Chile le gana a Inglaterra 2-0, pero el 16 de Octubre de 1998 Pinochet viene detenido en Londres y sabiendo yo muy bien lo sucedido en los estadios de Chile bajo su sangrienta dictadura, escribí la historia de abajo.
Click aqui for Dedicaciones
Click aqui for Prólogos
Click aqui for Wembley 1
Click aqui for Wembley 2
Click aqui for Wembley 3
Click aqui for Wembley 4
Click aqui for Epílogo