Jan Fairley's gallery
Jan was a well know British musicologist who married in Chile in the 70s and since then she was kept busy writing about the music of the world. She was always very much attached to Chile and Latin-America.
Jan was particularly fond of the music of the Inti-illimani and the music of Cuba. She was a very good friend of my family. She did a lot for the culture of Chile in Scotland. She was in Chile when the Pinochet's bloody coup took place. She was one of the first people to arrive in Britain from Chile to speak about the atrocities taken place in our country in 1973.
1986 Below: Jan's party at her home after a Inti Illimani concert in Edimburgh with classical guitarrist John Williams and flamenco guitarrist Paco Pena. On the left Dave Richarson ( Boys of the Loch) playing the accordion and Venezuelan cuatro player Jorge Ball of Inti Illmani. Galo Ceron in yellow.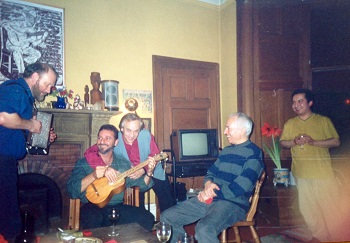 Jan worked for a while on radio Scotland and invited me a couple of times to appear in her highly successful programme about world music. In 1997 Jan was the Director of the Edinburgh Book Festival and one of the highlight of the event was to do an event about the work of Chilean poet and Nobel Laureate Pablo Neruda. Also invited to talk was the Peruvian writer and Nobel Laureate Mario Vargas Llosa. Also invited to her book Festival was Joanne Rowling who presented her book "Harry Potter and the Philosopher Stone".
The Scot poet, and Neruda's friend, Alastair Reid was a guest speaker along with the Oxford academic, and Neruda's friend, Robert Pring-Mill. The Chilean photographer Luis Poirot presented his photographic book "Pablo Neruda - Absence and Presence" and the Chilean Ambassador to Britain Mr Artazar was also invited to give a talk.
I was, of course, invited by Jan to sing some songs. Jan asked me and my wife to organise a party, in my home, with all the people mentioned above except the Chilean ambassador to Britain, Joae Rowling and Vargas Llosa..
1990. Jan loves us. She used to organised wonderful parties in her home in this case, to say goodbye to Raul and Judith in their way to Chile after the restoration of democracy in Chile.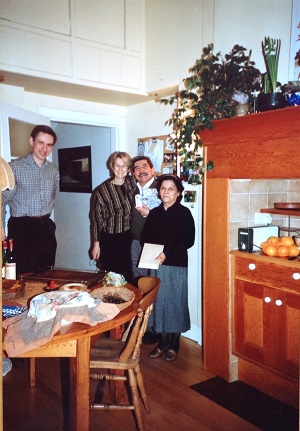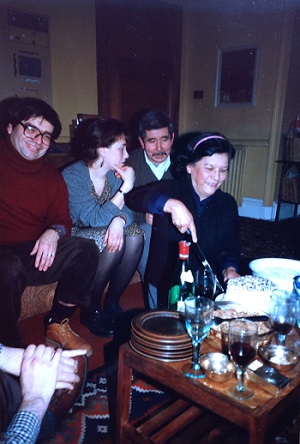 Jan was in Chile in January 2006. I asked her if she could go and see Señora Ofelia Gallardo. I wanted Jan to do an interview with her. Sra Ofelia had lost her husband, a daughter, a son, a son and a daughter in law at the hand of the Pinochet's terror regime. It was a remarkable interview! These people were killed by the D.I.N.A., Pinochet's secret police. They were all friends of mine except Señora Ofelia's husband. Jan also managed to interview her grandson Alberto Rodriguez Gallardo, son of her daughter Catalina and my friend Rolando Rodriguez. Click here to listen, in Spanish to Alberto's testimony. Click here to listen, in Spanish to Sra Ofelia's testimony (part1, part 2).
Paco Pena and Galo Ceron