Our first group of Chileans arrived in Scotland on the 10th of October of 1974. About twenty or more people remained ( myself included) in Glasgow and about six to seven people continued their jorney to Edimburgh. As the head of the Chilean Solidarity Campaign in Glasgow were very able academic people such as: Philip O'Brien, Jackie Roddrick, Mike Gonzalez, Suzi Weissman and others certanly helped by a group of volunteers who helped us with accomodation and other domestic things. In Edinburgh we had other group of vluntees people helping the chileans who arrived in their cities. But soon more Chileans began to arrive in both cities and beyond. This is because the solidarity movement with our country become stronger. For example, a solidarity group called Academics for Chile was formed in Edimburgh and it was headed by Professor Peter Vandome, Professor Martin Pollock and others.
A few weeks after our arrival in Glasgow Mrs J. M arrived together with another gentlemen at the home of Philip and Jackie to meet with us and to let us knows their solidarity. In this case the solidarity of the Scottish Communist Party and the involvement of the Trade Unions in the solidarity movement with us and Chile. By then the original members of the Chilean Solidarity Campaign were working very hard with us.
No doubt that with the incorporation of the PC and the Trade Unions the solidary movement took another dimention. It was a good boot for our cause in an escenario were already labour MPs were also given us plenty of support. I can think here of people I knew very well: Norman and Jenny Buchan. Jenny and Norman had organiced already in Glasgow a solidarity event with Chilean Folk band Quilapayun. we also have The 7:84 Theatre Company, with musician a singer David Anderson, already singing a Victor Jara song.
The following article was taken from the Scotsman (Monday, January, 12, 1976).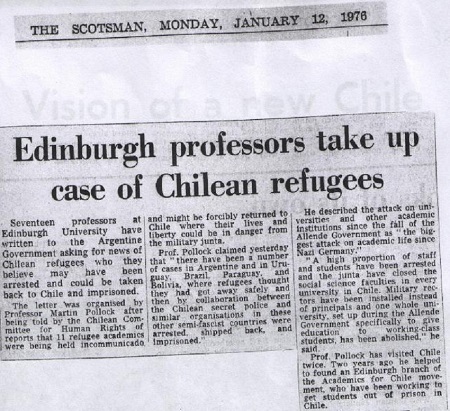 EDINBURGH PROFESSORS TAKE UP CASE OF CHILEAN REFUGEES
"Seventeen professors at Edinburgh University have written to the Argentine Government asking for news of Chilean refugees who they believe may have been arrested and could be taken back to Chile and imprisoned.
The letter was organised by Professor Martin Pollock after being told by the Chilean Committee for Human Rights of reports that 11 refugees academics were being held incommunicado and might be forcibly returned to Chile where their lives and liberty could be in danger from the military junta.
Prof. Pollock claimed yesterday that " there have been a number of cases in Argentine and Uruguay, Brazil, Paraguay and Bolivia, where refugees thought they had got away safely and then by collaboration between the Chilean secret police and similar organisations in these other semi-fascist countries were arrested shipped back, and imprisoned"
He described the attack on universities and other academic institutions since the fall of the Allende Government as "the biggest attack on academic life since Nazi Germany. A high proportion of staff and students have been arrested and the junta have closed the social science faculties in every university in Chile, Military rectors have been installed instead of principals and one whole university, set up during the Allende Government specifically to give education to working-class students, has been abolished," he said.
Prof. Pollock has visited Chile twice. Two years ago he helped to found an Edinburgh branch of the Academic for Chile movement, who have been working to get students out of prison in Chile.
I must underline that they "the British academics" helped all the Chileans people regardless of their social, academic status or political background. According to the World University Service's (WUS) sources * this "Academic for Chile" who met for the first time in London on the 13th of October 1973, were far from being supporters of the Popular Unity Government but were united in revulsion at the brutality of the military dictatorship and its attacks on the lives, values, social and political institutions of Chile. Chileans being helped by the "Academic for Chile" solidarity group were found studying at universities in many places of Scotland: Glasgow, Edinburgh, Stirling, Dundee and Aberdeen.
</p>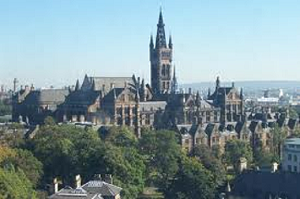 Glasgow University: The first group of Chileans
refugees arrived somewhere very near here.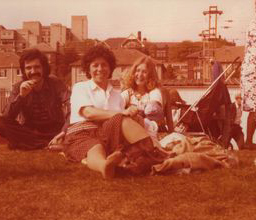 the home of Mike Gonzalez and his family.
May on the right, was there too and received
us with lovely songs.