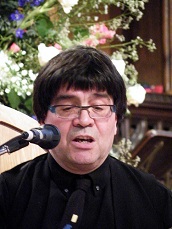 That person is…
I am, what you perhaps;
do not want me to be.
I understand it perfectly!
In prosaic language – I am different! 
So many clues give you that impression about me. 
So many indications provide you with that sense of…
security in relation to me,
in relation to your world.
I am not begging to be accepted by you
or anyone else who,
… who may feel is superior to me.  I am not inferior to anyone:
I am a follower of Vargas Vila*.
I may not be generous enough to accept from you;
what a racist mob may see in me:
someone who came here to steal, in solitude,
your dreams and your belongings.
Adversity, I am told, is the fate of any man,
in whatever continent,
in whatever circumstance.
My misfortune does not entitle you to feel sorry for me,
to feel that you have me by the throat.
Let us say that humanity is about:
thinking about giving solidarity with dignity.

* Jose Maria Vargas Vila was from Colombia and one of the most controversial
writers at the beginning of 20th century in Latin America. He was very well known
for his radical liberal ideals. He was a formidable critic of the clergy,
the conservative ideas and the imperialistic policy of the United States.