</h1>
Welcome to this Chilean exiliopedia in Scotland.
A unique audio-visual history place: politics culture, music,
poetry, memories, identity and solidarity.
Click on it to activities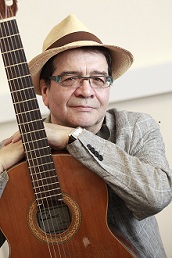 Click on it to activities
Please note:
This website is a window to show who I am : my music, my poetry, the cultural and political work in the context of Chileans in Exile in Scotland as a result of the bloody dictatorship of Augusto Pinochet (1973-1989)
If you use some of the materials found on my website, please contact me before hand for permission. Do not forget to credit my website and above all,
Please give your solidarity to any refugee in this country. They need you! Their countries need you! Thanks!



Dele a la banderita chilena: historias de mi barrio, el Chile de mis nostalgias.


</em> These are, one might say, the footprints
of my journeying through Chile and Scotland .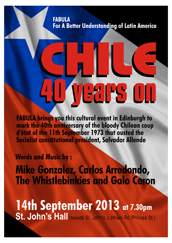 Click on it to activities
Este portal es una ventana para mostrar: mi música, mi poesía, mi trabajo cultural y político en el contexto del exilio en Escocia como avenimiento en Chile de la sangrienta dictadura de Augusto Pinochet. (1973-1989)
Está escrito en inglés para dejar bien en claro que a los refugiados políticos chilenos en el extranjero nada les fue fácil. Hubo que aprender tantas cosas entre ellas un nuevo idioma. En mi caso, dificilísimo! En Chile fui un artesano-obrero en una famosa fábrica de guitarras y con escasa formación escolástica
Por favor, si usa material de mi sitio pídame permiso y dele crédito a mi página y no olvide, dar solidaridad a un refugiado que le llega a su país. El o ella necesita amistad y solidaridad como aquella que recibí cuando llegué a vivir a un país lejano que me acogió con los brazos bien abiertos.