Welcome to this Chilean exiliopedia in Scotland.</p>
Pinochet's dictatorship (1973-1989)
These are, one might say, the footprints of my journeying through Chile and Scotland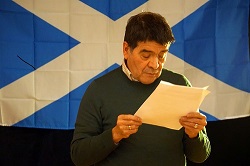 Click on it to my poetry activities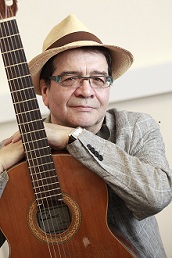 Click on it to my music making activities
Please note:
If you intend to use materials from my website, please contact me before hand for permission then do not forget to credit my website and above all,
Please give your solidarity to any refugee in this country. They need you! Their countries need you!
My song El Hallazgo

Banderita chilena = Castellano

,

Click here for friendly Links/ links amigos.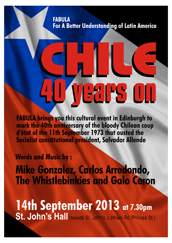 Click on it to my solidarity activities

Este portal es una ventana para mostrar mi experiencia dentro el Chileno en Escocia. ( dictadura de Augusto Pinochet. 1973-1989)

Escrito en inglés? asi es, para indicar que a los refugiados políticos chilenos en el extranjero nada les fue fácil. Por ejemplo, aprender un nuevo idioma.

Por favor, si usa material de mi sitio pídame primero permiso y dele crédito a mi página y no olvide,

dar solidaridad a un refugiado que le llega a su país. El o ella necesita amistad y solidaridad como aquella que recibí cuando llegué a vivir a un país lejano que me acogió con los brazos bien abiertos.

Escuche mi cancion : La Danza de La Araucaria Carlos Arredondo y Galvarino Ceron