Cultural Activities
Until the 1980s I advocated my entire life in Scotland to the subject of Chile: its politics and its culture in the context of a bloody Pinochet dictatorship affecting The People of Chile for 18 years. To play some guitar, a bit of imagination, a bit of courage and a political commitment was all what I need to do interesting things and meet interesting people.
However, I have also worked hard promoting the culture of Latin America. A very satisfying experience was to work, at times, with my fellow Chilean musician Galo Ceron in Schools, universities and children festivals.
For the things mentioned above and for the reasons listed below I realized that I have always been involved in cultural/political activities related either to Chile or Latin-America. This task allowed me to do exciting things and be in touch with interesting people involved in cultural work in Scotland.
A great experience was to work with the great political theatre Co. The 7:84. We toured Britain and Canada and allowed me to get to know two great people: John McGrath and his wife Liz MacLennan.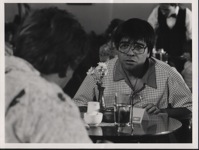 I with Scottish actor Gregor Fisher,
in John McGrath's film Red Blood
Roses. This scene was filmed
in Largs, Scotland
Works at times had been to help to organise in Edinburgh the concerts of famous Chileans bands and singers. Among them The Inti Illimani Band.
| | |
| --- | --- |
| The Inti at the home of Jan Farley | |
A person Who always supported my work and took part in Solidarity events for Chile was Hamish Henderson.
Once in Italy I asked the Chilean novelist Luis Sepulveda if he could gave an interview and he declined. The artist who did not decline to be interviewed by me was the Colombian painter and sculptor Fernando Botero. The interview took place many years ago in a beautiful Italian Piazza and in the beautiful region of Tuscany. Botero is one of the greatest Latin American artists working today.
| | |
| --- | --- |
| Fernando Botero | |
A remarkable friend of mine is the English musicologist and journalist Jan Fairley. Her life had been dedicated to the music of the Spanish speaking world and specially the music of Cuba and Chile.
Years ago in Glasgow I did the a couple of drawings which some of the motive had been taken to design my website.
| | |
| --- | --- |
| 1974 -Blanco y negro | 1974 -Complicaciones |