Profile
Please CLICK ON any images to enlarge
My story, a labyrinth, evolves round three very different countries miles apart in distance, history and culture. I just wanted to share my experience! As a matter of fact, I came to Scotland via Peru.
In Scotland I become a sort of a cultural worker engaged in activities around the theme of activism, music, poetry, tradition, identity and memories which had allowed me to do social and solidarity work in this country.
Part of this work has been to research, document and write a history of the Chilean refugees in Scotland. This is important because it is about a drama that began in Chile on the 11th of September of 1973. On this date, a bloody coup d' etat took place with terrible consequences for the country. The coup was staged by the army General Augusto Pinochet, with the support of the Government of the United States, against the democratic elected Socialist Government of Salvador Allende.
It is against the backdrop of this sad experience that affected me and millions of Chileans that I found myself and other chileans in Scotland doing a lot of solidarity work against the bloody military dictatorshipthings in our country. Although, I never belonged to any particular Chilean left-wing Party I joined the strong solidarity movement with Chile in Scotland. In the 70s ad 80s many importat politicians of The Labour Party in England as in Scotland supported us.
Below. 1976, June, Renfrew. I with the Chilean Folk Group I formed in Glasgow in Nov 1974 to do solidarity work. It was the first Chilean musical group in Britan. Here we are with the Labour leader Michael Food.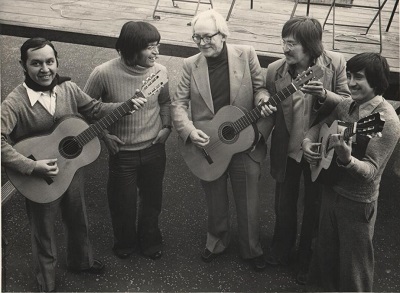 With my Chilean Folk Group (TUCAHUAL - Tulio,Carlos,Hugo,Alberto) one day in November of 1974, in a rainy night, and with some members of the Glasgow Chilean Solidarity Campaign (kown then, as the The Glasgow Defence Committe ) went to East Kilbride to thank and give moral support, by singing songs and speeches, to the workers of the Roll-Royce factory. Their Union, lead by the gentlemen below and others of their coleagues, had refused to mend Chilean engines belonging to the Chilean Air Force which were in need of repairs. These were Hawker Hunters bombers Roll- Royce engines used, on the 11th of September of 1973, to bomb The Presidential Palace in Santiago. An scene, I witnessed from a long distance.Today, 2018, these coraugeus people are celebrated and the subject of a documetary film .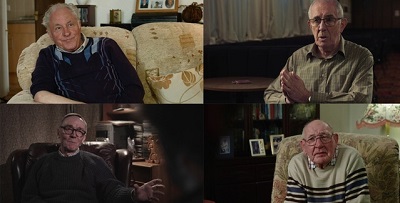 Below.Singing and given a speech about the Pinochet dictatorship to more than three hundred thousands people at Bellahouston Park in Glasgow in 1982.
In May 2010, for example, The Scottish Refugee Council and The United Nation High Commissioner for Refugees.(UNHCR) asked me to support their activities to commemorate the 60th anniversary of the The United Nation Convention on Refugees. With pleasure, I accepted their invitation because I knew so well that this organization had played a great role during the dictatorship. One of the highlights of these activities, was to have tea at the Home Office with the conservative Minister Theresa May. I was one of three refugees in Britain invited to the Home Office.
Another interesting experience for me has been to become a Unison Shop Steward to represent the Support Staff in my place of work. I hate the idea of history passing me by my side - I want to be part of it!


1984 Work with
the 7:84 theatre Co.


1988, Edinburgh, I organized
this symbolic referendum

1998, Demo-London
detention of Pinochet


Performing at the
Edinburgh University


2001 By Craig McLean for a
photographic exhibition
in Edinburgh


In a film , a 'wee' part,
with Gregor Fisher


2011. UNHCR-Tea with
Theresa May at
the Home Office


Work with the 7:84 Theatre
Co. Canada- The playwright
J. McGrath


2010 Support in Edinburgh for the
Chilean earthquake -


2011. London. At the Home
Office with UNHCR staff. Meeting
with the Home Secretary
Theresa May






Support against cuts on
jobs and education
in Scotland


2010 Chilean earthquake
The fisherman Alejandro
Reyes was the recipient
of a boat we bought for him
in Edinburgh