7:84 Theatre gallery
Please CLICK ON any images to enlarge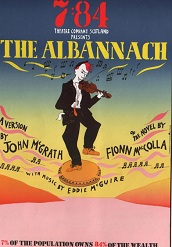 One of the most beautiful things that happened to me in Scotland was to get to know John McGrath and Elizabeth MacLennan the founders of The 7:84 Theatre Company, prestigious political theatre company.

In 1984 the company needed someone to write songs and perform for a one woman show written by John and called: The baby and the Bathwater. John and Liz invited me to meet them at their flat and there they explained to me what was required not before telling me that they knew the Chilean actor Hugo Medina in those days, living in exile in London. I accepted the challenge with happiness. I was about to enter a world where I had never been before, a very demanding theatre world which resulted for me in a unique and an invaluable experience.

John and Liz become with the passing of time good friends of mine and I could see how committed they were in producing a type of theatre that was politically committed against the evil of our capitalist society. The 7:84 Theatre Company took pride in taken their shows to the remote communities of Scotland where no other theatre company would dare to go.
We travelled extensively in Britain, including Scotland of course, and Canada in two occasions. I met famous people and even more they invited me to be a guitarist for John's play: The Albannach with the beautiful music by Edward McGuire. In 1984 we did a lot of solidarity work for the miners.
In 2002 we were devastated by the death of my compañero John at an age when he was at the peak of his intellectual capacity.
https://www.theguardian.com/culture/2002/may/15/artsfeatures
I was also devastated by the death of my  compañera Liz on the 23th of June 2015. https://www.theguardian.com/stage/2015/jun/29/elizabeth-maclennan
http://www.heraldscotland.com/opinion/13414888.Elizabeth_MacLennan/
Below an extract of The Cheviot, The Stag and the Black, Black Oil perhaps, the most appreciated and celebrated work by the 7:84.
Liz and John! Always Presente!


7:84's The Baby and the Bathwater.It deals in many respect, with the experience of this woman the Nicaraguan 1992 Noble Peace winner Rigoberta Menchu




7:84's The Baby and the Bathwater deals in many respect, with the experience of this woman: the Nicaraguan 1992 Noble Peace winner Rigoberta Menchu



1987. I am singing in
Nova Scotia



1987. Nova Scotia Canada

1987 Nova Scotia. I with the
Brazilian Augusto Boal and
young members of a Nicaraguan Theatre Company




1987 Nova Scotia. I wth the Brazilian Augusto
Boal and young members
of a Nicaraguan
Theatre Company



1987. Nova Scotia and autograph by the graet Brazilian
Augusto Boal

1987 Sydney, Nova
Scotia I with Carlos Jauregui
Chilean chess champion and
one of a few able to beat the great B.Fisher



A fantastic tribute to
John in edinburgh
and I sung - No Pasaran



Augusto Boal's book

Details of the Baby and the Bathwater

1984 Getting ready for the Baby and the Bathwater



I am singing beside John, below actors
and musicians from The Albannach



1986 J.M. master class. Albanach Canada tour



Liz MacLennan's book. She mentioned the 7:84 experience with me





Liz MacLennan's book. She mentioned the 7:84 experience
with me



Liz MacLennan's book. She mentioned the 7:84 experience
with me





Liz MacLennan's book. She mentioned the 7:84 experience
with me



1976.7:84 Soliidarity work wth Chile



1987 Nova Scotia

Our Solidarity with the People of
Nicaragua the above copy was assigned to the actor Ian McKellen



Our Solidarity with the People of
Nicaragua the above copy was assigned to the actor Ian McKellen

Our solidarity work with the
Scottish miners





October 1986. Sabal mor ostaig, sleat Flaco Ross Finlay welch John Buick



1984.show programme

1984 show programme



1984 show programme

Sisney, Nova Scotia withTony cuffe Catherine Ann MaCphee. Workng songs.



I at Strontian and toronto

1986 Toronto