Rodrigo MacLeod, and María Cristina López Stewart

Among the disappeared people I know of two Chileans with Scottish connections: Juan Rodrigo MacLeod, and María Cristina López Stewart. Rodrigo was a founder, of the theatre Company El Aleph today (2018) an established company based in Paris.
Rodrigo, a young Chilean Scottish actor, was arrested with his mother-in-law Maria Julieta Ramirez on the 30th of November 1974 when both went together to pay a visit to his wife, Maria Antonieta and his brother in law, the actor Oscar Castro detained at the notorious concentration camp Tres Alamos. After their arrest were never seen again.
Oscar and his sister Maria Antonieta, Juan's wife, were eventually released and left for France and in Paris. Maria unfortunately was hit by car and died. During the arrest of Augusto Pinochet in London in 1998 I had the opportunity to speak on the phone to Oscar Castro and from him I learned a bit about Juan and how proud was 'Johnny', as Juan was known to his friends in Chile, of his Scottish roots. "He was fond of wearing his kilt Oscar said to me."
In those days I contacted the head of the MacLeod in Scotland to find a bit more about his family in Scotland. See letters below.
What we know is that, according to Greta MacKenzie book " Why Patagonia", Many MacLeods who went to work and live in Patagonia came from the Hebrides (isles of Lewis) and places like Balallan, Keose, Laxay, Leurbost, Ranish, South Lochs, Laxday, Carloway Stornoway. Many emigrated in the early years of the 20s century to the Falkland islands and from there, with the passing of time, began to emigrate toward Patagonia: Argentina and Chile.
The Story of Juan Rodrigo MacLeod as told to me by the chilean actor and playwrigh Oscar Castro of Thatre El Aleph.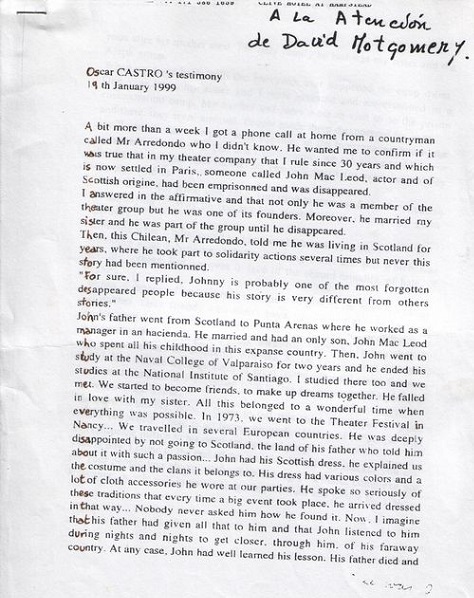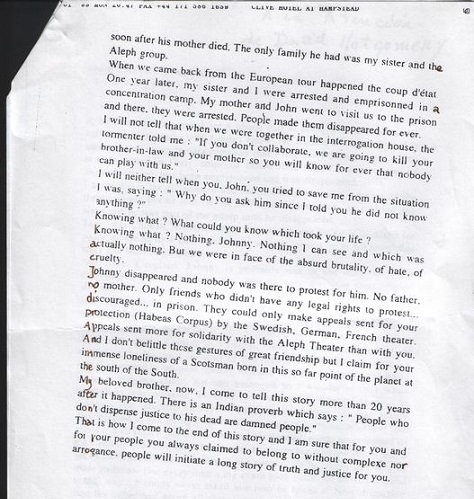 During the Pinochet detention in London we tried to bring his case to the attention of many people.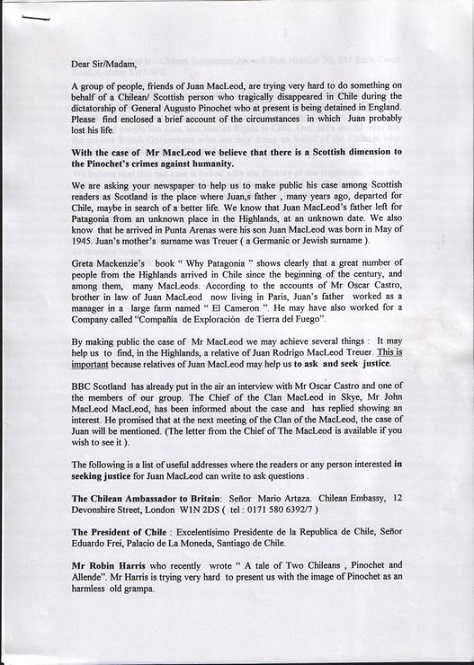 We contacted the chief of the clan MacLeod in Scotland about Juan Rodrigo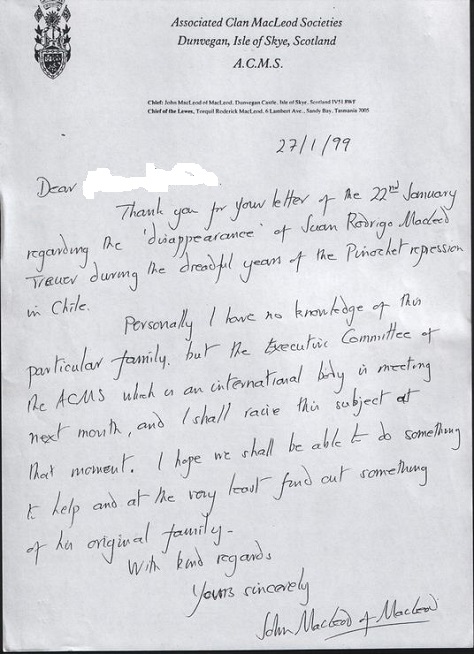 What we know of María Cristina López Stewart is that she was a revolutionary and a poet and, I am told that, her personal dairy of 1963 could easily be the Chilean version or the equivalent of the Dairies of Ana Frank. Maria was a 22 years old geography student when she disappears at the hands of the Pinochet's secret police.