Our Rincon Chileno( Chilean Corner) was aways full of peple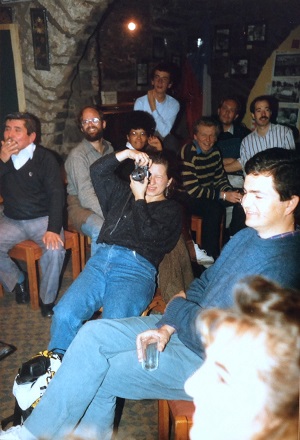 Our Cueca, our national dance, was never absent in our concert. below our dancers: Ruby Ceron and her father Don Raul who had been a Pinochet prisoner in the concentration camp at the very cold Dawson isle.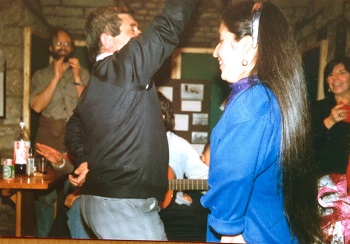 Carlos Arredondo and Galvarino Ceron


Danza de la Araucaria
The Monkey puzzle tree is native to Chile and Argentina and it was the inspiration for my instrumental song heard here. Scotland is full of araucarias.

La guitarra Siguio Tocando Compañero Victor Jara
To write the lyrics of this song I used the names of some of Victor Jara's most well known songs. I composed the music thinking in Victor Jara's guitar. Victor was killed in 1973 by the Pinochet's regime; however, he is still alive in my heart. Victor is one of my musical and political heroes.
Carlos Arredondo


Desierto Verde
Back in the 80s, I learned that body parts from poor children were removed and bought for transplant in many countries belonging to the so called First World. I want to shooooooooooooouuuuuuuutttttttt!

Inventos
Inventions and industrial disasters lead us to expect a terrible outcome for the human race and our planet: American Atom bomb/ Hiroshima/Nagasaki/ Japan/1945. Bhopal in India/ 1984/ worst industrial disaster/Amnesty International estimated 22 thousand deaths.
Galo Ceron tuning the cuatro and ready to play.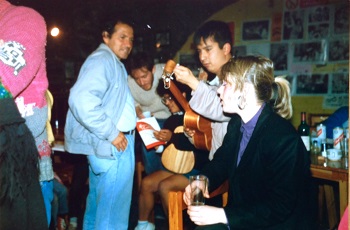 Galvarino Ceron


El marabino
By Venezuelan composer Antonio Lauro
The piece is beautifully played by Galvarino Cerón Carrasco I tried to follow him by playing the Venezuelan instrument called Cuatro.
Le Jazz Hot


Le Jazz Hot
Here we have a group of musicians enjoying their playing whilst astonishing me with their skills.
Martyn Bennet


Martyn Benett
I was lucky to have in my Rincon Chileno as a guest a young musician who would become one of the most accomplished Scottish pipers of his generation. I am still angry that he died so young. His music is alive and ringing in all my being.

Martyn and Margaret Bennet
Martyn Bennet's mother has always been a cultural ambassador of the highland people. In this recording Margaret sings to us a lovely Gaelic song accompanied by Martyn.
The Witches Tuesday
A fine Edinburgh based "a Capella group" made of four accomplished singers from England an one from Italy. Their repertoire was international focussing on feminist themes.


Silvie


We are the Witches


Charles Boyle and Dominic Ashworth
These two fine musicians came all the way from Glasgow to play at the Rincon Chileno. Charles was from Scotland and Dominic from Canada. Today Dominic is a top UK guitar player touring and recording for Carol Kidd. Look for Dominic's CD: "Portraits"
Lynsay Porteus


on mouth organ


Jews' Harp
Somebody said that this good friend of mine, a rare multi-instrumentalist, is probably the most well known traditional Twanger (Jew's harper) from Scotland. I confirm what is said of him. Nora, Lindsay's mother, a friend of Lady Elgin, a direct relative of Lord Cochrane, our Chilean hero, always celebrated her son sense of humour and his unique approach to music. I have always celebrated Lindsay musicianship and I will add that he is also a great collector of musical instruments and many other interesting things.
Mae Shaw


Jim Sutherland and Jack Evans


Belfast
May, from Ireland, is a political singer and like very much what she sings. She is accompanied here by Jim Sutherland on percussion and Jack Evan on guitar. The three of them helped me, with their talent, to make my first record Debo Cantar Bonito.