RADIO PERFORMANCES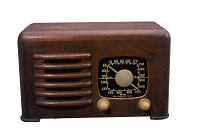 From time to time I am asked to participate on radio programmes either to perform or to be interviewed about issues dealing with Chile or Latin America.
Below a selection of these radio programmes.

1999-Exiles in Scotland-Community Radio-Drumchapel Glasgow
This is a Drumchapel (Glasgow) community base radio programme made, in 1999, by Kay Ritcher. It was recorded during the time when Pinochet was being detained in London. He has been detained here in 1998. Drumchapel, is a council state and a place where a number of Chileans refugees, including several families. I lived here and Enrique Davila who in 2004 become a high-flying executive working as President of ENAP, the State Chilean Petroleum Company.

Programa tomado de una radio comunitaria de Drumchapel (Glasgow) y hecho por Kay Ritcher en 1999 año en que Pinochet estaba detenido en Londres. Había sido detenido en esta ciudad en 1998. Drumchapel es un lugar alejado del centro de la ciudad de Glasgow. Los apartamentos aquí pertenecen a la municipalidad y es donde vive la clase trabajadora, la agente que se siente más excluida del desarrollo social. Lo más cercano a nuestra realidad chilena seria la pobla! Varias familias chilenas refugiadas vivieron aquí, yo viví aquí y también Enrique Dávila el alto ejecutivo de la ENAP y que en el 2004 se convirtió en su presidente en el 2004.




24-12 2003- BBC- Mundo en nuestras calle
It was a lovely experience to have been invited, generously by the BBC radio Scotland, to take part on their very interesting series: 'World on our Street'. Lindsay Peel the producer of this cultural programme was generous enough to allow me to express myself on the radio about my experiences, as a refugee back in the 1970s. The programme allowed me, among other things, to thank those folk musicians who always supported the Chilean people in their struggle for freedom. Linday was interested about my music developed in Scotland as a cultural and political activity. I always worked with Chileans and Scots people to restore democracy in our country.

En Diciembre del 2003 fui muy afortunado de haber sido invitado, como un refugiado chileno de los años 70s, por la radio BBC de Escocia para tomar parte en la interesante serie: 'El Mundo En Nuestra Calle', producido por Lindsay Peel. Fue una linda experiencia. Lindsay muy generosamente me invitó al programa para hablar de mi música como una actividad cultural y política en Escocia. De paso pude agradecer el trabajo, de conocidos folcloristas escoceses por la libertad de nuestro país. Mis actividades siempre las realicé con compañeros chilenos, escoceses, ingleses y personas de otras nacionalidades.




1991- BBC Radio-Scotland-Extracts-Neville Garden 1


1991- BBC Radio-Scotland-Extracts-Neville Garden 2


1991- BBC Radio-Scotland-Extracts-Neville Garden - cancion- CAMARON-3
1991- BBC radio extracts from the show Festival Garden and presented by Neville Garden. Here I am with my good friend the Chilean Guitarrist Galvarino Ceron Carrasco.

1991- Aqui estoy, con mi amigo, el guitarrista chileno Galvarino Ceron Carrasco, en el programa de radio llamado Festival Garden y que tiene que ver con el famoso Fringe Festival que se realiza cada año en Edimburgo.




1) 1988 -introduction. Archie Fisher


2) 1988-Huincaonal.MP3


3) 1988 - Huincahonal


4) 1988- Radio-Scotland-Extracts' short interview


5) Translation before my song -Debo cantar bonito- I must sing well


6) 1988- BBC-song - Debo Cantar Bonito - I must sing well


7) 1988 - BBC-Radio Scotland-extracts-Archie Fisher


8) 1988- BBC- Radio-Scotland-Extracts - entrevisata
Archie Fisher a lovely man and a good singer musician from the BBC Radio Scotland asked me several times to appear in his programme 'Travelling folk' he used to interview me and I play my songs.

Archie Fisher, un personaje muy simpático y un excelente músico escocés, me invitaba siempre a participar en su programa de la BBC radio Escocia: 'Travelling Folk'. En esta grabación canto una versión mía de Huincahonal acompañado por mí por una quena y un charango. Esta, Huincahonal, es una canción chilena y que refiere a nuestros Mapuches. Canto también una canción mía que ha gustado mucho en Escocia y que se llama 'Debo Cantar Bonito'. La canción fue recitada en inglés en el programa por Archie.




A modo mio - mi cancion


Ariel Dorfman


Introduction by Briam Morton to Libre
Here are some extracts taken from the BBC radio programme The Usual Suspect and presented by Brian Morton. Brian, a very kind BBC radio presenter, invited me to his programme as a way to introduce to the Scottish audiences the work of Chilean Playwright Ariel Dorfman who wrote the play: The Death f the Maiden. I sung and talked about the Pinochet's coup in Chile on the 11th of September of 1973. Extractos tomados del programa radial The Usual Suspect de la BBC, radio escocesa, y presentado por Brian Morton. Fui invitado por este gentil presentador radial, para cantar y hablar sobre Chile ya que Brian entrevistaría, en su programa al dramaturgo chileno Ariel Dorfman quien escribió: La muerte y la doncella. Yo canté y hablé acerca del golpe de Pinochet en Chile el 11 de Septiembre de 1973.




Introduction a Rigoberta Menchu


Introduction to Pueblito San Limon


Pueblito San Limon


Rigoberta Menchu
This is another BBC 'Usual Suspect' programme which I was invited to take part to promote a serie of 32 concerts I was about to do for the Fringe Edinburgh Festival. That is, two concerts per day (one hour each) for over a period of two weeks. In this recording I am singing with my Venezuelna Cuatro two of my songs: Rigoberta Menchú and El Pueblito de San Limón. Rigoberta Menchú was a Guatemalan Nobel Peace Awards winner in 1992 and I described in my song her suffering and that of her people, 'the Quiché', at the hand of the Guatemalan Army led by Ríos Montt. El Pueblito de San Limon is a song that refers to the case of apartheid in South Africa.

Esta es otra grabación del programa 'Usual Suspect'de la BBC Escocia. En este programa fui invitado para promover una serie de 32 conciertos que daba para el festival llamado 'Fringe' de Edimburgo. Presenté dos conciertos al día de una hora cada uno y por un periodo de un poco más de dos semanas. En esta grabación canto dos canciones mías: Rigoberta Menchú and El Pueblito de San Limón. Rigoberta fue ganadora del premio Nobel de la Paz en 1992 y en mis canciones describo: el sufrimiento de Rigoberta, junto al Pueblo Quiché, a manos de los militares de su país guiados por Ríos Montt y en El Pueblito de San Limón, describo el régimen de segregación en África del Sur. Mis canciones las canto tocando un cuatro, instrumento venezolano