Schools and university works
Please CLICK ON any images to enlarge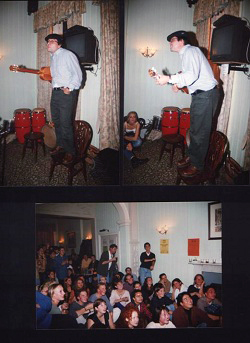 Back in the 1990s, as a way of doing some work to earn some money, I had the idea of presenting in educational establishments: primary, secondary schools and universities some didactic workshops based on Latin American culture including geography, topography, the flora and the fauna. Everything was done with my music. This type of work served me as a platform to study and prepared me to go to the Edinburgh University. I graduated here in 1997.
I used to invite in my cultural journeys through the Scottish Primary and Secondary schools, the Chilean classical guitarist Galvarino Ceron who would play to the children, the works of Latin American composers such as Piazzolla, Lauro, Barrios, and Villalobos etc.
I was also used to be invited to play at Children festivals and on this capacity once I was invited, along with many artists, to a reception with Prince Philip at the Edinburgh City Chamber. At the reception, I was one of the interpreters between the Prince and some members of La Banda de la Risa (JA!,JA!,JA!) the excellent Argentinean Theatre Group. The Prince had come to see a Gala performance of Fausto by La Banda de la Risa at Inverleith Park. I have not doubt that it was a PR exercise because the Prince's visit took place after the Malvinas/Falkland war.


1991The Scottish
Children Festival


Promotional material
related to my workshop
on Latin America


Promotional material
related to my workshop
on Latin America