Tizona Guitar Factory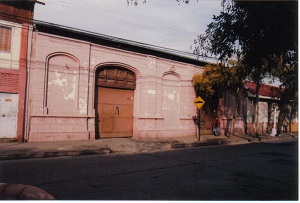 It was located in Esperanza between Mapocho and Andes St. in Santiago of Chile. It was owned by Don Leonardo Rodriguez Dumont. It was the biggest guitar factory in Chile during the 1960s and 1970s. I worked here six long years and I have very fond memories about my time here.
.It was here at the Tizona factory, a worker from 1967 to 1973, where I learned to play it. During this period took place the major Tizona's development and it coincided with a very important period in Chilean history: the Salvador Allende's presidency.
Tizona was a real cultural institution in Chile as many people could afford to buy one of these guitars. They were decent guitars, nothing fancy in terms of the woods or the materials used to make them. In their simplicity they were, however, made with love and technique and by a group of dedicated artisans.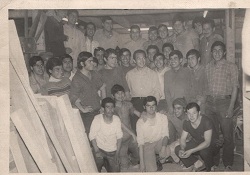 c. 1970- Here we are, the Tizona
worker with the great Chilean boxer Geoffrey Stevens.
The guitar has been for me a very important element in my life: a sister, a leg and a head helping me in my adult life to find the good roads to walk in life. Together, we had had a long musical journey dedicated to play our music and to sing for my friends in Chile and for very important causes in Scotland.
The guitar had helped me, with musical strings, to find my place in society. It has helped me to opens doors of hope in time of need. It was so important for me when I arrived in Scotland. It was a loyal companion in my days of solitude in the rainy Glasgow days of 1974. Give me strengths.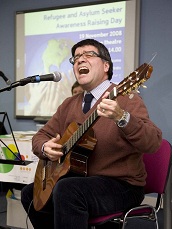 Singing and playing for a good cause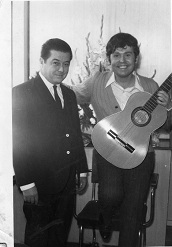 Don Leonardo Rodriguez
Dumont and the great
Spanish singer Raphael
Patricio Valenzuela was the floor manager and the maestro Peñailillo was busy inventing machines to improve production from about 10 guitars a day to 40 -50 a day. At times we could even make 60 guitars a day.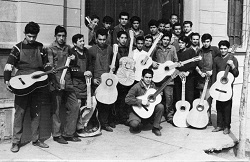 1971- During this period I used to sing on radio
and one day I received the below
letter from a girl that likes my songs.
Above: one of my compañeros at Tizona, Carlos Lopez Menares, today, one of Chile's most important Luthiers. He began his carrer here as an apprentice. and so was another worker, my compañero Fredy Chamorro who is also a luthier and today, a proud owner of a music shop in Chile. See below
http://www.24horas.cl/regiones/coquimbo/el-arte-de-confeccionar-guitarras-101759
.