I agreed totally with what Galvarino said about these two icons in Chilean music.
"I think it is important that the world does not forget these two seminal musicians Violeta Parra and Victor Jara. They have influenced a host of musicians worldwide, not only because of the brilliance of their 1960s and 70s "avant-garde" folk styles, but also their courage to fearlessly promote their own "political" folk music.  The Pinochet dictatorship tried to wipe out this music: but even by brutally killing Víctor Jara in 1973 they did not succeed. Today the music of Jara and Parra continues to symbolise the reality of the Latin American continent and beyond... Just listen to their lyrics! "
My own tribute to Victor Jara
. The text of my songs weaves together the titles of some of his most famous songs.

Victor, tu musica no murio contigo
VICTOR, YOUR MUSIC DID NOT DIE WITH YOU (Edinb. 1986)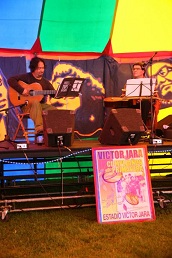 Wales: El Sueño Existe festival 2009
Es un Festival cultural y politico organizado en el Pais de Gales. Esta inspirado en la obra de Victor Jara. Se realiza gracias al magnifico trabajo de Tony Corden! y tantos otros amigos galeses e ingleses afincados en Machynlleth-Gales.
In August 2009, Machynlleth hosted a festival celebrating music and political activism in Latin America. The festival is inspired by the work of Victor Jara.
Tony Corden, the organizer of this fantastic festival invited me and Galo to take part to sing our programme of Victor Jara's and Violeta Parra's songs.
Photos taken kindly by Hillary Matthews.
Fotografias tomadas gentilmente por Hillary Matthews. Many thanks Hillary!