Chileans in Dundee
I consider myself an enthusiastic keeper of my own story and the history of the Chilean refugees in Scotland.

Please CLICK ON any images to enlarge
Because the Dundee Solidarity Campaign was strong we know that big events of solidarity took place here. I remember well how the formidable Norman Buchan, a very respected Scottish Labour MP for West Renfrewshire, and his wife, Jenny Buchan also a very well respected Scottish Labour MEP, invited our Glasgow based folk group to Dundee to perform in a big event for Chile.
We know that on Saturday 19th of September of 1981, a big conference was organised at the Caird Hall ( Marryat complex) called:
'Scottish Conference on Chile and Latin America'.
Among the guest speakers was Madame Allende, Salvador Allende's wife who had the opportunity to share the meeting with various local leaders, among them Alec Kitson and Mick McGahey. Madame Allende in that occasion took the opportunity to meet some Chilean refugees in Dundee.
Photograph taken by Mario Uribe.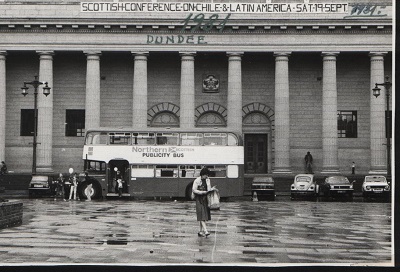 The formation of the solidarity movement with Chile in Dundee was wide as in any of the Scottish cities where Chileans refugees were found. There were organizations and people from all walks of life: Trades unionists, people on the left of the Labour Party, MPs, members of the Scottish Communist Party, as well as member of the Socialists and Trotskyites Parties. And of course, students, workers, teachers, academics, Human Rights organizations, Amnesty international and Religious concerns were all united to help Chile in time of need and to help us the Chileans refugees in Scotland. The Chileans communities themselves in Scotland organised in different groups: Cultural groups, political groups in order to work together with the different Solidarity group in Scotland and the UK.
"Memories of Steve Gowenlock, a volunteer working with chileans: When I undertook my undergraduate degree at the University of Dundee (History and Philosophy), I was involved in voluntary work, primarily supporting Chilean refugees who were re-settled in Dundee after General Pinochet's coup in September 1973. 
In the words of Dr Douglas Chalmers who is from Dundee and working at the Caledonian University in Glasgow: "The society of Friends, the The Quakers and the Labour Party were very useful".
Photographs taken by Mario Uribe.
Below left
Mick
McGahey. Madame Allende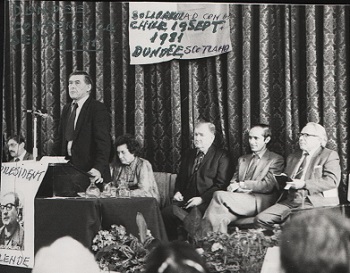 Madame Allende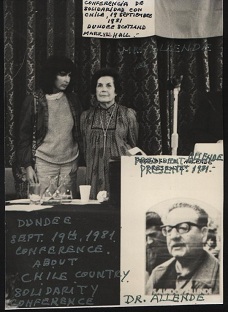 I can recall here such academic as Professor Jennifer Birkett who is today an accomplished author. My memories of Jennifer when trying to organise an event for Chile was about good optimism: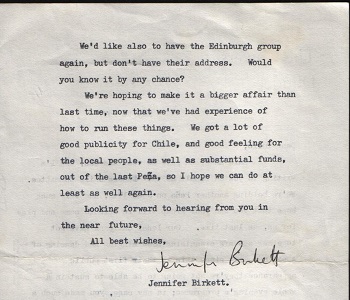 I think Jennifer was referring to the "Peñas" organised in Dundee on the 5th of June and 17th of June of 1977.
What the Chilean in Dundee used to do for Chile?
Chileans organised cultural events for solidarity in conjunction with other organisations. My Glasgow Folk Group received an invitation through Machiavello, a Chilean living in Dundee, to play, at the Dundee University Students' Union on the 5th of June of 1976. The event was called a 'Chilean Peña - Festival of Popular Songs'. This event was organised to rise awareness in Dundee about Chile and to collect funds for a Human Rights Organization just set up. Part of the forewords of the Programme said:
"A fascist military coup ended the dreams of a better dawn and destroyed the best of humanity, its liberty. Thousands of political prisoners fill the Concentration Camps in Chile. Intellectuals, students and workers are suffering torturer and degradation as human being. Why? Only because they wanted to break out of poverty and underdevelopment, because they tried to make a country with the same chances for all Chileans, rich and poor. Dundee could not stand by and ignore this crime, and so there was formed a HUMAN RIGHTS COMMITTEE, to try and reduce the suffering and poverty of thousand of their people… in our 'fiesta' you can come to know something about the People of Chile: their music, dances, their drinks and typical food."(Tickets £1.00 from Labour Party Headquarters, 1 Rattray St)
.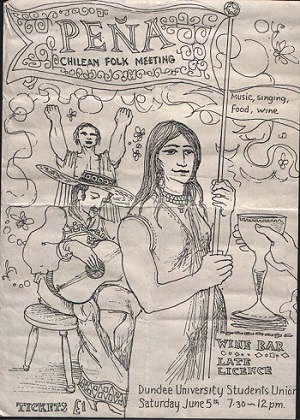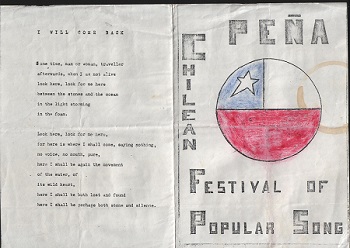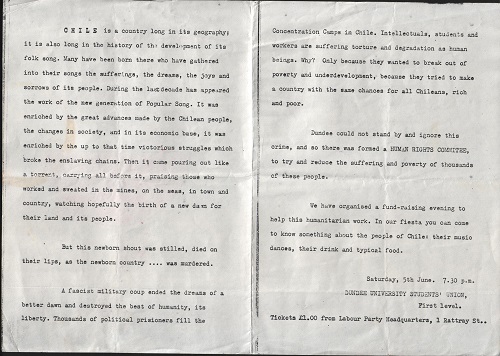 Memories from Michael MacGregor

"Hello Carlos, your name was suggested to me by Jim Barlow here in Dundee. We were speaking at the unveiling of a memorial to Dundonians who fought and died fighting fascism in Spain. I had recently met the widow of a Chilean here in Dundee. I was unaware of the passing of Mario Uribe and was very sad. I was at the station in Dundee when the Chileans arrived here and remember it vividly and all the friends we made amongst them who I often think about. I have only their names now and often wonder what has become of them. Are there sites where you can trace these friends? My Spanish is not good but " recuerdo...Jorge, Rheiner, Jose y los otras amigos viejos..."
Chileans encouraged their youngers to do music to participate in solidarity events and by doing so, they maintained our musical traditions with charango, guitars, tambourine and bombo.
1979. Below: Ruby Ceron, the Vergara sisters and Galo Ceron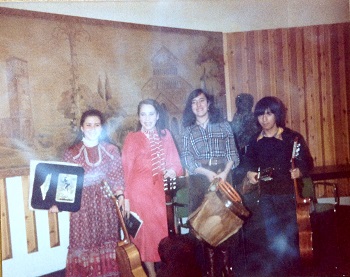 Here we have an invitation extended to me from Jorge Bocca, a Chilean refugee, studying at the time computing at the University of St Andrews. From the programme we can notice that they had a folk groups and singers.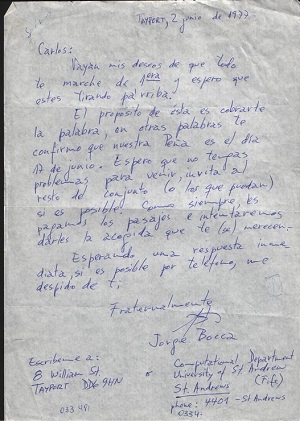 Same invitatation as above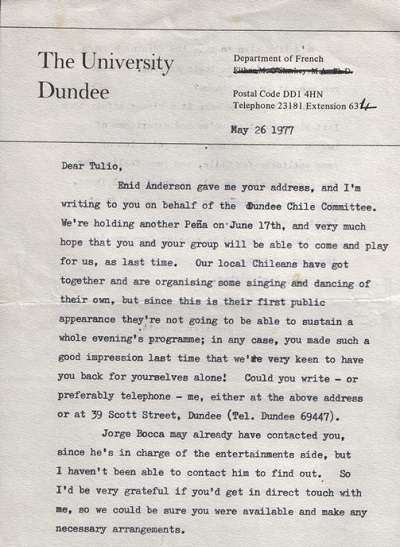 Programme
Conjunto Chile lucha y canta
Cristina Kika O'Ryan
Conjunto Glasgow (my group)
Biography of Chilean Popular movement
Fernado Vergara
Songs from Chilean Resistance
Scottish Groups
Food – Entertainment - wine
Memories from Dr Douglas Charmers from Dundee:
(Click on the black tab "Evento 17 June77" on the top left to listen the programe that night.)

Dr Douglas Chalmers was, like me and other people, a participant of a full day event organised by Glasgow Caledonian University on Saturday 29 November 2003 to commemorate the 30th anniversary of the Coup in Chile.
"At the time of the September event I was 16 in Dundee. I was a member of the Young Communist League, and at that time it's so long ago, I'm trying to remember things that stick out in my memory, and as someone that was in the CP, two things to stick out, funnily enough, one of them was the day we discovered Jimmy Reid had left the Communist Party, for me that was a big thing, and when you're young and think things are going well that's important, but the other thing was the morning of the coup, because I remember getting up, I was the first up, 7 o'clock put on the radio, ten past 7 and it was either a live broadcast or it was one of the breaks and they were breaking new saying that there had been a military coup in Chile and you heard the jets presumably screaming down, and I was just….it was just….you know, it was just so terrible to hear it. I went and woke up my family, they were all sleeping. My father and mother, all Communist Party members, and you know, to hear that some people had been seeing as a possible success story, you know, that had had that terrible setback it was such a blow, so when I look back to my teenage years in politics that's one of them that has etched itself indelibly.
What then happened in Dundee was like elsewhere Chilean families began to appear, they tended to be housed in the worst areas in Whitfield and in Beechwood, but we had a substantial group of Chileans in [1.47?] the Carpenter family and they soon began to have an effect on I think the way that people looked, you know, people on the left, they looked at politics.
One of the things that I recall that did change was I think Carlos mentioned it, was the music. You started actually having music at events, and empanadas as well (laughter) and then the dancing, things like you watched the Quaker I think it was called, so all of these things, you know, I'm indelibly either injured or I'm certainly affected by that sort of stuff.

In terms of what it meant for the refugee community, well, I was involved in politics, but other groups who tended to help were I think that the Society Of Friends, The Quakers were very, very helpful in Dundee and the Trades Council, and the Labour Party as well was very good, I must admit. The sort of things that the Chilean community did, there were a few…they organised a few hunger strikes, which I thought was very, very brave over the first two years that they were there, based in churches, and it was around actually 'the disappeared' you know, and luckily enough that got a lot of press coverage. Like Bobby was saying we relied on the Morning Star a lot at the time, and even on the very right wing, D. C. Thompson Press.
Below: left and holding a shovel, Don Raul Ceron Morales who lived with his family in Dundee. He is seen here at the Dawson isles, Pinochet's notorious concentration camp in the remote southern of Chile.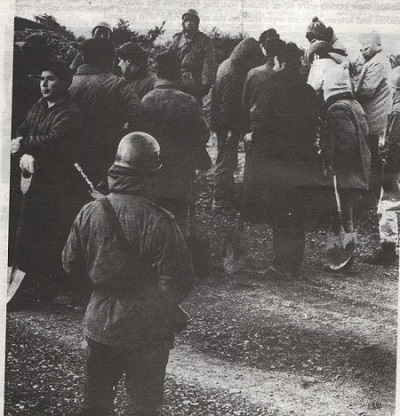 Once in Dundee, where Don Raul arrived in 1977, he took part in September of 1978 in a fourteen days hunger strike. He is seen here on the far right besides Renato Milla. On the far left we have Bill Dailyfrom Dundee who also took part on the strike. F.Carpentier, (wearing a tie) did not take part on the strike on this ocasion. Don Raul returned to Chile and died there on the 6th f April of 2015.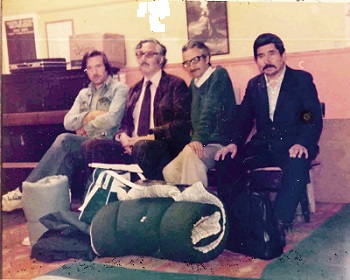 But other things I remember at the time were the marches that were organised here, I think a couple of years after the coup was the one where Jimmy Reid spoke and Hortensia Allende spoke. I think it was 75 and I thought that was a very, very big march for the time, which, I remember, other things as well when Cordula was released there was the meeting at Usher Hall, and we organised two buses which we thought was great, full of YCL's and so on, and then two minutes before they were due to come 30 Chileans turned up unannounced and obviously we thought 'oh right, solidarity we've got to get off the buses' so most of the Scots that were left behind the buses were full of Chileans, they were vastly over….I mean it was about 25 people in a 12 seat minibus you know, so we got about 50 people through there in two minibuses without any scrapes, but that had a big impact on what was happening locally in terms of bringing culture and politics and a wider view of things to people.

Finally, what affect did it have about the way you thought about things? Well from my tradition it brought about looking at how do you avoid something like this? The Italian Party came up with the idea of historic compromise; the idea says Euro-Communism I think in how to build a majority. It took a lot of lessons from this, a lot of hard lessons, you know, so it had a bit impact on the type of politics that the Left adopted in that time. These are the sort of things I remember, it's so long ago, you know, for me anyway'.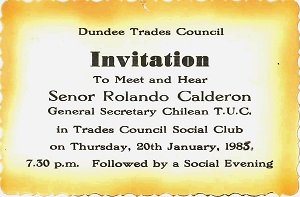 Who were the Chileans who came to live in Dundee?
The Chileans who came as exile to Scotland were a mixture of working and middle class people. There were people with good academic education and other with no more than primary and secondary education. There were families with children and married couple without children and single people. Some of these people were professional and skilled other were without a trade. There was even a boxer: Guido Martinez trained at one point by José Ceron Carrasco Morales who in Chile had been a paramedic and a boxer trainer : In Dundee also lived Tito Toro a mathematician 'always on a motorbike' according to Galo Ceron.
The photographer Mario Uribe (QEPD) with Maria his wife. Picture taken from pressreader.com/uk/the-courier.Dundee.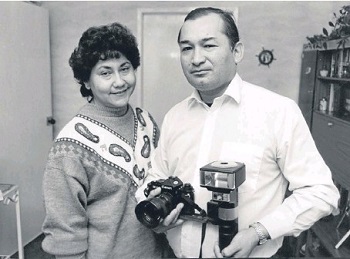 Photograph taken by Mario Uribe.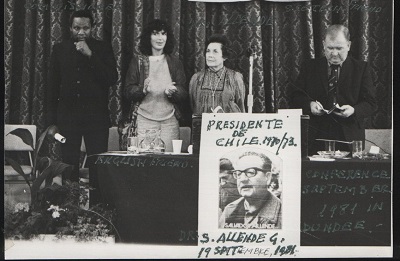 Below Pedro Montiel, who passed away at the age of 58 in 2015, was, according to his daughter Camila, a devoted and gentle family man, friend, scientist and teacher. He was an active communist, and politics shaped the course of his life, both in his home country of Chile and when it led him, as a political exile, first to Scotland (Dundee) and then to London.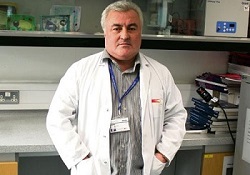 Where went to live the Chileans who arrived in Dundee?
According to Galo Ceron most of the Chilean refugees lived in The Whitfield Housing Estate built by the Dundee District Council during the 1960's. According to Dr Douglas Charmers, Chileans were housed in the worst areas in Whitfield and Beechwood.
We know that in Whitfield there was 'The Whitefield Labour Club' and their members, such as George Mason, used to organise rallies and events for Chile. On the 18th of September of 1982 they organised a Festival at Whitefield which I was invited to take part. The 18th of September is Chile national day and what the Whitefield Labour Club wanted to do was an event 'to commemorate the death in Chile of Dr Salvador Allende by the fascist Military Junta'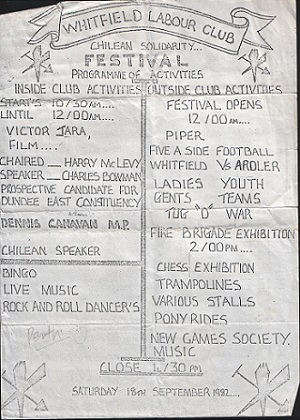 1978. Chilean Children in Dundee doing solidarity/cultural work: Galo Ceron, Amada Vergara and Rubi Ceron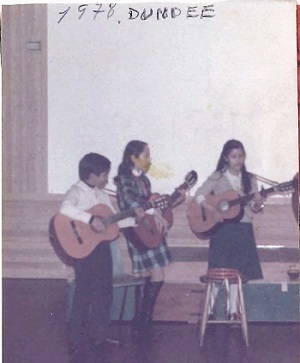 1981. Madame Allende and some of the Chileans from Dundee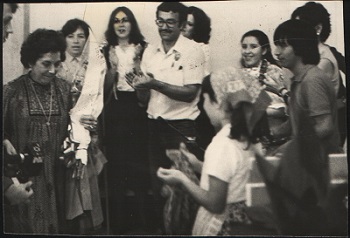 Some Chileans children have good memories of Dundee: Susana Carpenter writing from Chile where she now lives explains:
'My family and I lived in Dundee from 1975 until 1985...but I feel very Scottish because I spent my childhood in that wonderful city. My sister and I studied in Saint Likes Primary School then in Saint Saviours high school and then last of all Harris Academy. I have wonderful memories of those times and made very good friends, unfortunately I have lost contact with all of them, Alison Christie, Donna Hirons (who had 2 more sisters in the Harris Acd.) are the ones I most remember and have no idea how to locate them, I miss Dundee, I grew up there, and I know some day I shall go back to visit it. I am now 30 years old and I studied Translation"
Margaret K. Faulkner
One person that I knew and worked hard with the Chilean cause in Dundee was Mrs Margaret K. Faulkner. She was the Co-ordinating secretary in 1985-1990 of the Dundee Latin American Human Rights Group. She knew many Chilean refugees. Margaret, a true internationalist, helped to organise in Dundee a variety of event for Chile. In a letter of thanks she wrote to me on the 26th of March 1985 about an event for Guatemala on the 9th of March I was involved, she also said:
"We are concerned, too, about so many of the Chileans refugees being encouraged to go home when events in Chile at the moment are so horrific and some of the returned exiles have already been killed in so-called 'confrontations".
Writing to me again on the 23rd of May 1990 about my proposal to do a concert in Dundee with the classical guitarist Galvarino Ceron who lived in Dundee with his family as a 'wee' boy she said:
"Galvarino was, of course, one of 'our Chileans' and his talents were first spotted, I think, while he was at school here, at Whitfield High School. I would suggest that the Music Centre in Bell Street would be a good venue and, if you like, I will write to the Local Authority to see if we could get it and find out if we could get it fairly cheaply if some money goes to charity, .i.e. our Committee or a project in Chile for children, if there is still a need, as I expect there is. The 'monetarist miracle usually means that the poor are starved. We haven't, however, had much real information out of Chile recently."
We played with Galo on the 20th of October 1990 and Mrs Faulkner said to me on her letter of the 11th of September that her group 'The Dundee Latin American Human Rights Group' would do a small donation to the University Chaplaincy: 'The proceed will be divide between you and Galvarino and health work in Latin America, Probably Scottish Aid for Nicaragua as we don't at the moment know of any relevant project in Chile…"
Margaret K. Faulkner was the wife of Mr Thomas Ewan Faulkner who was deeply committed to the Quaker Meeting and to social services in the community. Mr Faulkner very much supported his wife's work in the running the Dundee branch of Amnesty International and the drop-in centre in the Meeting House for the Chilean Refugee.
The Chile Committee for Human Rights
By February 1978, The Chile Committee for Human Rights based in London (1 Cambridge Terrace London NWL) was receiving contributions to their funds from local committees set up in Britain. In the case of Scotland, the contributions came from Human Right Committees in Clydebank, Dundee, Edinburgh and Glasgow. There is an account available about the money received by the London based Human Rights Organization for the period of 1976 and 1977. Dundee contributed with £ 170.00 in 1976, with £ 25.00 in 1977. ( The Chileans in Dundee contributed with £34.00 in 1976.)
Time ago wrote to Jim Barlow a member today of the Socialist Working Party to ask him about his reminiscences of the solidarity campaign in Dundee:

"Thank you very much for your e-mail. What I said on your Guest Book is true – it is bringing back to me many memories of my work with Chileans in Dundee. I do remember that I was a representative of the International Socialists (forerunner organisation of the SWP) to the Dundee Chilean Solidarity Committee. There were two other members of that committee initially: someone, from the Labour Party and another from the Communist Party. But right now I cannot remember their names.
The Labour Party was very instrumental in getting social housing for Chileans to come to Dundee. The role I played personally was one of leafleting many workplaces and speaking at meetings around Dundee. I remember that first leaflet that we wrote as a solidarity committee, because we fought bitterly about the content.
George Mason who signed the letter which you sent me a copy of, is a personal friend and he may still have some material. I will contact him and ask him to help me gather information and check if he has any documents. I have not yet visited Maria, but I will definitely do so.
I remember Mrs Faulkner but we never really crossed paths very often. I remember Doug Chalmers very well although I have not met or spoken to him for many years. He may have been the other member of the first committee, but I am not sure.
I remember reading once that Lenin said the revolutionary party is the memory of the class. I never thought anyone would ever ask me to delve back 30 years ago to remember my past involvement in a matter which to me in many ways is history. Maybe I am just getting older".
Below is an obituary from Jim Barlow about the death of Mario Uribe in Dundee.
"Normally when a person dies it is a reason to mourn. But the death of the hated General Pinochet of Chile has brought many hundreds onto the streets of Santiago to drink champagne and to dance in celebration on hearing of his demise.
I also share this joy. He drowned the country in the blood of many thousands of trade union and socialist activists for no other reason than the fact they supported a socialist government.
The Dundee Chilean Solidarity Campaign raised money and awareness of the plight of these refugees.
My dear Chilean friend Mario Uribe, who lived in Dundee since the military coup and contributed much to the community here, died a few weeks before Pinochet.
If he had been alive today, we would have raised a glass together in honour of the many Chileans who lost their lives fighting the dictator Pinochet. We would have had another drink to celebrate the death of the dictator".
Sra Maria Uribe, who Jim refers above is below with Madame Allende in her visit to Dundee in 1981.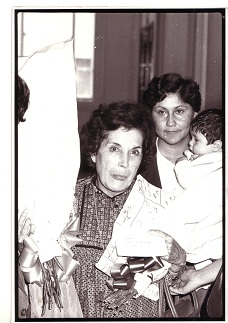 End for the time being.
Many thanks! to Dr Rubi Ceron Carrasco for providing me with many of the photographs shown here and taken by Mario Uribe.