Life in Chile
Please CLICK ON any images to enlarge
Since my personal story began in Chile I thought it was important to write about it first in order to present a comprehensible story of my experience in Scotland.
With a view to preserve in writing an account of my life in Chile I began by asking myself the question: what was Chile for me? what is my country?  In fact, I wrote a song about it :Tu pais (Your Country)
I soon discovered that my country was in effect a small but a very important area of Santiago known to me as "mi barrio!- which included: Esperanza St. (between Yungay and Mapocho St.) and adjacent streets and piazzas of Barrio Yungay today a trendy tourist attraction were the middle classes used to live at the beginning of the 20th century. Part of my barrio were also all the streets  including  San Pablo St.,  Quinta Normal park in Matucana st.  and Balmaceda St.  where used to run and  not too far from the dirty water of Mapocho river, a railways line between Santiago and Valparaiso. All these streets and places were located on walking distance from the city centre. This is the area in which I recognise my country: away from the sea, the Andes mountain that I was able see, and the country side. This is the Chile for me from the point of view of my experiences and early learning. 
That is, my working class streets full of people of all ages and plenty of children and surrounded by small, medium and big businesses which seemed to blend very well with its poor architectural landscape castigated by years of powerful tremors and earthquakes.  The memories I have of my childhood and my youth is that of a time of great political changes. (the forties and seventies). I placed my story durig this period together with my small family of three: I, my father, my step-mother (and not amorous connections between them) and my many friends. It had been an excellent opportunity for me to delve and reflect deeply about my generation. Thinking about all of these things I decided to write:
One never should forget its roots and friends. The gentleman above, and singing is my pal Ivan. I remember him for many things: a generous man above all and with a fantastic sense of humour. always a hard worker and like me, always loved singing.  In our youth, we used to visit, with our friends,  the Santiago radios to see live musical shows. His home was always my home.

'A Detailed Reflection of my Neighbourhood'

which can be expored below and with additional narratives which help to put my barrio in the context of social and political Chilean history. There are two interviews that I invented for me to clarify themes I touched in my description of my story.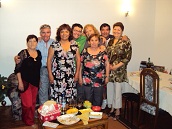 2010- Above, a reunion with some of my childhood friends. Some are from the place I used to live in my barrio the famous "Chiflon del Diablo". The place where we grew up.
Below, a video with my dear friends from childhod Teresa and Carlos. They tell their story and experieces at our Chiflon which was my experience. (c 1956s to c 1970s). This was an interview made by the Dirección de Bibliotecas, Archivos y Museos de Chile. (DIBAM)
http://www.memoriasdelsigloxx.cl/601/w3-propertyvalue-71499.html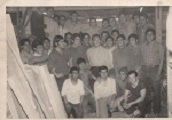 I with my fellow workers from the Tizona guitar factory. In the middle the great Chilean boxer Godfrey Stevens. See below
Below, the catholic church of my barrio and a bit of history. I used to be an altar boy here.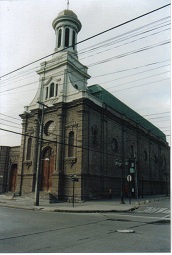 From Cristian Campos.
La iglesia (above) ubicada en Esperanza con Yungay, que hoy se llama San Juan Bautista y pertenece a la Orden de Malta (desde 1995), fué construída a fines del siglo XIX, y declarada monumento histórico; mi bisabuelo Demetrio Flores quién además de luchar en la Guerra del Pacífico fue quién colocó la cruz sobre esta Iglesia, por eso el orgullo que aun esté en pie este monumento. Agradezco de verdad el esfuerzo sobre un sitio de un barrio donde viví por casi 20 años.
Toñito
was one of my songs that my friends still remember in my barrio after 40 years.
The type of lives we had in my working class barrio depended on the political system we had and specifically depended on the guardian of that political system: The ruling classes. I decided to write about them.
It was a good idea to complement my memories about my barrio with some thoughts about the social class I always recognized myself. The working class.
A writer must be bold. I allowed myself to look to the issues I described about the high classes as affecting our lives in our barrio.
Then I decided to indulge myself with two interviews to delve even more about Chilean history.
And of course, I used a number of sources to complement what I wrote.

In 2010, I pay a visit to Chile after 15 years of absence and, of course, that 'Chile' was my barrio. I was so glad to meet friends that I had not seen for more tan 35 years. When I came back to Scotland I wrote, in Spanish, 'Viaje a Chile" ( Journey to Chile). It was an experience highly charged with emotions and memories.
| | | |
| --- | --- | --- |
| | | |
It is the story of the Gallardo's, a beautiful family I knew well. The bloody dictatorship of Augusto Pinochet found in them an easy target to express the nature of his regime based on terror, torture and death.

The Gallardo's story intermingle with my childhood friend, Rolando Rodriguez Cordero killed, like those from the Gallardo family to whom Rolando was closely related to:

Rolando's wife, brother in law, father in law, the wife of his brother in law were all tortured and killed by the Pinochet's regime.

They were wonderful people that did not deserve to die so young. Their choice was to oppose the regime in order to restore democracy and freedom in our country.

Rolando and Catalina Gallardo left a 'wee' baby called Alberto and today he is a big man trying hard to understand and then come to terms with the tragic death of his parents and other of his close relatives.

I had the opportunity to meet him during my visit to Chile in 2010.


Rolando Rodriguez Cordero





With two of Rolando's sisters.
We met in Santiago in 2010. Maria on my right just passed away.