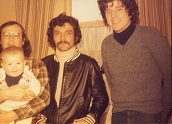 1979- Roberto, Victor, flaco Antonio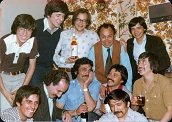 Chileans in Drumchapel, Glasgow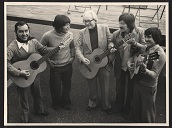 1976- our Folk Grup with MIchael Foot in Renfrew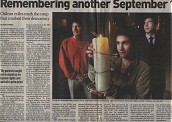 The Scottish press always interested in our stories.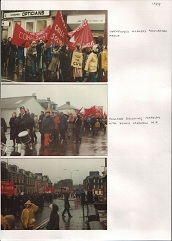 1984 Stirlingshire Chilean Action Committee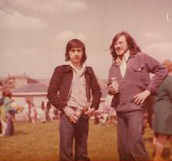 1974-Chilean in Glasgow
Chileans refugees
in Scotland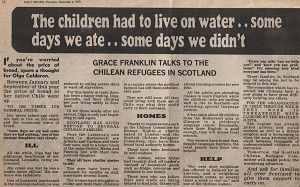 After the Pinochet bloody coup on the 11th of September of 1973 thousand of Chileans, left Chile for Peru, and many arrived in Lima. I was one of them. Most of us Chileans were well received by the Limeños. There was a lot of sympathy towards our case. The ferocity of the coup in Chile caused a great impact in the international community. We were, however, stranded in Lima. Many Chileans did not even have proper documentation or a visa to stay and work in Peru. The Peruvian Government, on the other hand, was not pleased to have so many of us there. (we were supposed to be "lefties and revolutionaries!" in other wors "trouble makers!") It was at this point that the United Nation High Commissioner for Refugees (UNHCR) decided to intervene by providing assistance not only to those Chileans living in Chile but those who for different political and economic reasons had left the country for other places of Latin America. It was in Peru were many of us, who came to Scotland on a bus, become refugees. Others, who arrived at a later stage, become refugees in Argentina. In an act of great generosity and understanding, the British government of the day accepted us here. It was, however, the generosity of the hundred of people working on the Chile Solidarity Campaign in Britain who took care of all of us once we arrived in Britain. The most important organization helping us all was the London based Join Working Group (JWG) and the World University Service (WUS) set up t help those refugees with academic backgroud.

The following is a very important link and relates to the Archives HUB, the keeper of the papers of the Chile Solidarity Campaign held at Labour History Archive and study centre.
Scope and Content
The collection comprises the working papers of Chile Solidarity Campaign from its foundation in 1973 to it close in 1991. It includes records of local, student and trade union bodies that joined the campaign for Chilean democracy.
Administrative / Biographical History
The Chile Solidarity Campaign (CSC) was set up in 1973 in response to the brutal overthrow of the democratic Chilean government by a military coup led by General Augusto Pinochet.
The Papers of the Chile Solidarity Campaign were donated to the People's History Museum (formerly National Museum of Labour History) in 1991.
https://archiveshub.jisc.ac.uk/search/archives/e9e70e20-c2fc-3078-a667-8224fcc6a215



1975- We joined with our children the celebrations to mark the 800 years anniversaryof the the City of Glasgow


Glasgow. Nov 4th 1975.Our folk
group playng at the McLaren Galleries

Stirling- one of the first Chilean Solidarity Committee in Scotland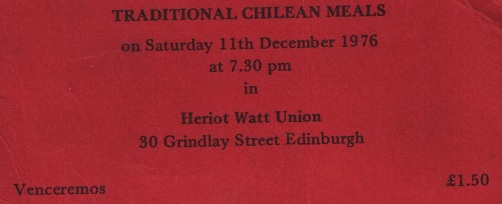 1976 - Chilean cultural activity in Edinburgh.
I was invited to play in this event.