My songs 1
Mis canciones 1
Please CLICK ON any images to enlarge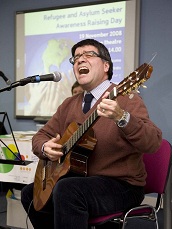 It is always a real pleasure to play music live below a selections of some of my songs
Toñito (1970) Written in Chile. My first song with a social content in it.
Una Nube Blanca (1974)
Los Muy Ricos Contratos (c 1980)
Despierta Soldado (words by Ivan Hraste and my music. c 1979)
La Tonada de los Chilenos en Exilo en Edimburgo (c 1985)
Debo Cantar Bonito (1988) Live at the BBC Radio Scotland
Son solo palabras (c. 1975)
El Pueblito San Limon (1990)Live at the BBC Radio Scotland
El Coraje (1989)
Quien Puede (c1979)
Cuando Analizo el Pasado (c1979)
Latinoamerica (1977)
Chico Mendes (1989)Concert Live
A Camilo Jorge (1984) John Gillies' poem and my music played here with The Glagow Folk Band The Whistlebinkies
Rigoberta Menchu (1984) Live BBC radio Scotland
Peru 1992 ( (1992) BBC radio Scotland)
Amor Solidaridad, Libertad (c1980)
A Modo Mio (BBC Radio Scotland)
La Canción de Moyano (1996) Live in concert
Hijos del Silencio (1992), Incoherencias (1992) 21st of June 2011. BBC Radio Scotland. Live interview with Mary Anne Kennedy about refugee week.( 17mins)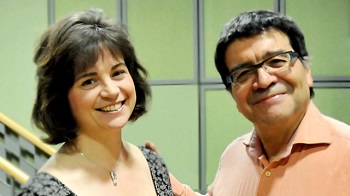 I also enjoy playng and singing other people's songs and I do it in my own way. A good example is my own rendition of the songs of Victor Jara and Violeta Parra found here. I tend to focus in the meaning of the each word in the context of the song.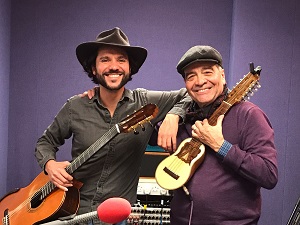 2017 with Morgan Szymanski-1st of November BBC Radio Scotland performace

Below: El Hallazgo, a song of mine played at the Queen's Hall, Edinburgh to celebrate the Day of the Dead (1st of November - 2017). Accompanied by my friend, the Mexican classical guitarist Morgan Szymanski, and the City of Edinburgh Music School.
Below. My free version of Violeta Parra's song: "Gracias a la Vida"
Below: my rendition of La Llorona a very famous Mexican song